Art Auction

Erotic Art Revealed



20th Century Erotic Fantasy Art of Dean Adams Curtis

Fall 2023 Art Being Auctioned Thursday, October 5th:

Three Women in VW Van (Original)

Artist: Dean Adams Curtis

Date: 1988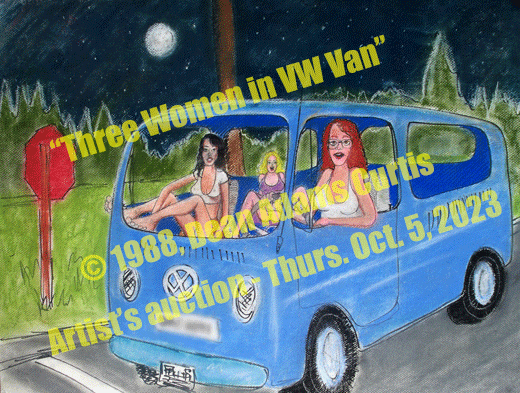 Click the image to place your bid by email (the only way).

Media: Pastel chalk

On: Canson Mi-Teintes paper

Size: 19.5" height x 25.5" width

Minimum bid: $12,000

Provenance Details:

In 1988, the artist was walking West on Washington on the Venice Beach side of the street. He was crossing a sidestreet
when a VW van pulled up with three women in it. The woman driving asked for directions to a sports bar in Marina del Rey.
He gave them directions, then continued walking, saying only, "Have fun." For the rest of his walk home he wished he'd asked
if they wanted him to guide them. When he returned to his studio he was burning inside from two fires, regret at his perceived
inability to seize the moment, at opportunity lost, as well as from his fantasies regarding an experience that would never occur.
That evening, his remedy was to pick up his drawing pad on which he drew out the fantasy pastel artwork offered here for auction.


Bidding is easy by email!

EMAIL BID



Auction Rules!

One piece of the Dean Adams Curtis collection of original pastel artworks is sold per quarter, on the first Thursday of each quarter.

To be valid, all bids must be submitted via email by 12:00 midnight PST on Thursday, October 5th.

The winning bidder will be contacted before 5:00 p.m. PST the Friday that follows.



Next Auction: Thursday, January 4, 2024.